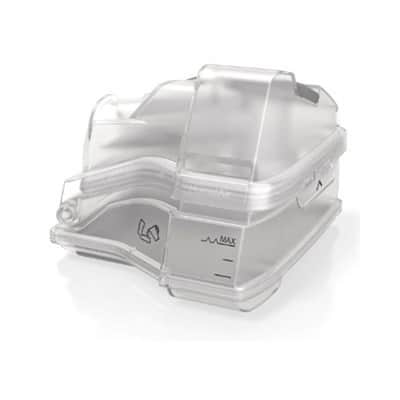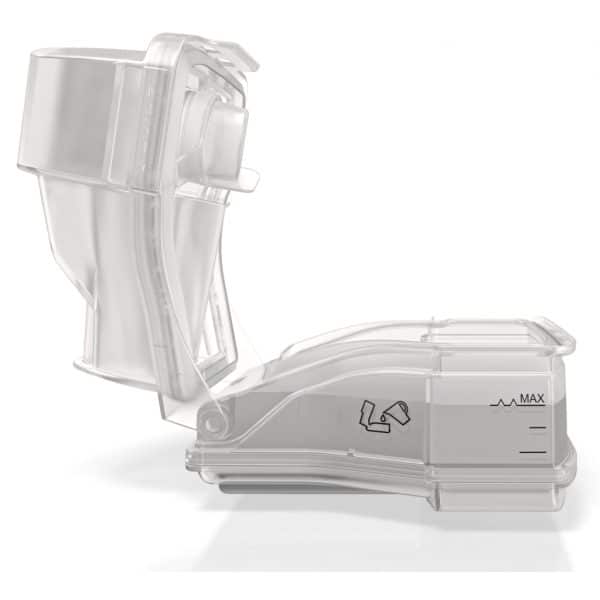 Free shipping
For orders over 50€.
User services
Pre and post sales advice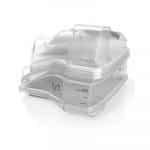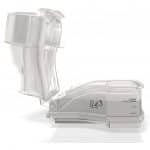 HumidAir (Humidifier for Airsense 10) Resmed
165,00€
Relieves dry mouth and nasal congestion

Tempers air to maximize patient comfort

Seamless integration with ResMed's AirSense ™ 10 and AirCurve ™ 10

Effective in maintaining optimum humidity

Easy to use for more comfortable therapy and better sleep
Learn more about the product
Frequently bought together
Description
Reviews (0)
Consejos/Mantenimiento
Condiciones de Envío
Description
HumidAir ™ is an advanced thermal humidifier that integrates seamlessly with any ResMed AirSense ™ 10 and AirCurve ™ 10 therapy device. It is easy to use and highly effective in maintaining the optimal level of humidity for your comfort. Humidification offers relief from dryness, congestion and condensation, so you can enjoy more comfortable therapy and better sleep.
Relieves dry mouth and nasal congestion. Tempers the air for maximum patient comfort.
Easy to use: The water bucket is easy to disassemble, clean and reassemble. It can be washed on the top shelf of a dishwasher.
Smart Detection: Your therapy device will automatically detect when the HumidAir is connected, ready to go.
Humidification : Maintains the optimal humidity level for your comfort and provides effective relief against dryness and congestion. The humidity level can be adjusted to suit your preferences.
HVAC: Climate control technology (available with ClimateLineAir ™ Air Conditioning Tube) keeps humidity and air temperature levels constant and comfortable during your therapy.
Optional Heated Tube: Add an optional ClimateLineAir heated tube for added respiratory comfort or if you find moisture building up in your mask or tube.
One complete solution: compatible with all AirSense 10 and AirCurve 10 sleep therapy devices.
Video Transcript
The sea is therapeutic, humidity relieves some respiratory diseases, but in excess it can become annoying. If we do not control the humidification of our CPAP we expose ourselves to side effects: pharyngitis, rhinitis, dry mouth. Avoid them, ventilate your room, maintain humidity between 40% and 70%, incorporate humidification control into your CPAP equipment, and forget about time.
Si tiene la nariz o boca seca aumenta la humidificación. Si hay humedad en la mascarilla, reduce la humidificación.
Humidair humedece el aire y está diseñado para hacer que el tratamiento sea más cómodo.
Puede configurar el nivel de humedad en "Apagado" o entre "1 y 8"; donde 1 es el ajuste de humedad más bajo y 8 es el ajuste más alto.
Tipo de Agua recomendada:
Agua destilada
Agua de Botella (de mineralización débil)
Transcripción del vídeo
ResMed air solutions han hecho que sea más fácil que nunca disfrutar de los beneficios de la humidificación con calor, ayudándolo a adaptarse al tratamiento y permanecer cómodo durante toda la noche. Se ha demostrado que la humidificación con calor alivia los efectos secundarios de la terapia, como la sequedad nasal o garganta. Su dispositivo viene con el nuevo humidificador de aire húmedo incorporado. Puede disfrutar de las ventajas de la humidificación en un sistema fácil de usar. Con la nueva configuración automática del "climate control", tanto la temperatura como la humedad se ajustan automáticamente hasta los niveles deseados para un máximo confort. Lo único que tiene que hacer es conectar el tubo calefactado Climatelineair y presionar el botón Inicio. Sin configuraciones para cambiar ni menús complicados para navegar. Con el nuevo conector rotacional de 360 grados del Climatelineair, puede disfrutar de más libertad de movimiento. ResMed Air Solutions, un nuevo comienzo para dormir mejor.
Nuestras Condiciones de envío por compras en nuestra tienda online son :
– Envío en 48 horas: 9.80€
– Contra reembolso (24 HORAS): 18.15€
– Recogida en local ( SÓLO Barcelona Y Madrid): 0€
– Gastos de envío GRATUITOS en importes superiores a 150€
PAGOS:
– Tarjeta débito/crédito
– Transferencia bancaria (enviar comprobante para mayor rapidez de envío)
– Paypal