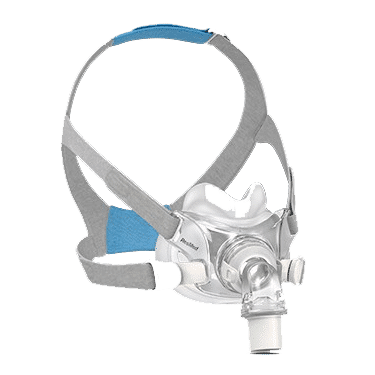 Free shipping
For orders over 50€.
User services
Pre and post sales advice
AirFit F30, ResMed CPAP Mask
155,00€
Smaller style face mask designed to leave fewer facial marks.
Simple and modern appearance.
Perfect for wearing glasses and sleeping on your side.
The smallest and most comfortable face mask.
Learn more about the product
Description
Additional information
Tips/Maintenance
Shipping Conditions
Description
The ultra-compact Airfit F30 mask gives you all the functionality you need in a mask. Smaller, quieter and less bulky than a traditional mask.
Innovative Design AirFit F30 Mask by ResMed
Its innovative design without covering the nose helps make the therapy more tolerable, increasing visual freedom and movement.
The QuietAir diffuser minimizes the noise of exhaled air creating a quieter environment.
Choosing the right size:
Step 1: Print our simple size template for AirFit F30, making sure it prints to scale.
Step 2: Place the insole under your nose, perpendicular to your face. Assess the width of your nose and identify the size of the corresponding cushion.
Step 3 – If your nose is inside the red border, choose the small cushion. If your nose extends to the blue border, choose the medium cushion.
Cleaning:
We recommend hand washing the elbow, frame and QuietAir cushion of your mask after each use, using a mild liquid detergent in a bowl of warm water. All other components of the mask should be hand washed in the same way at least weekly.
For more information see the following videos.
How to adjust your F30 mask
How to clean Airfit F30 mask
Our Shipping Conditions for purchases in our online store are:
Shipping in 48 hours: 9.80€
Cash on delivery (24 HOURS): 18.15€
Local pick-up (ONLY Barcelona and Madrid): 0€
PAYMENTS:
Debit/credit card
Bank transfer (send proof for faster shipping)
PayPal